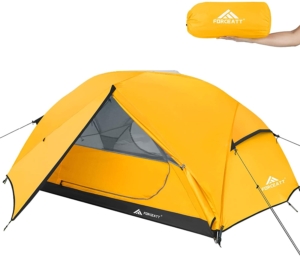 Buy now at Amazon
Price: 105 euros
Internal dimensions are 2.25 m W x 1.85 M L x 1.20 m H
Packing 43 x 18 cm
Weight max 2,98 kg
Lightweight tent, ideal for hiking/backpacking/festivals
Interior suitable for 2 people + luggage. It is camped with 3 people and luggage.
Fast, easy assembly
Sloping side porch/canopy,
Tent entrance very wide and comfortable
Insect screen
Wind/waterproof
good ventilation
Headroom in the interior is rather small (about 110 cm)
Very simple and quick assembly
Evaluation: the tent weight is ideal for longer hiking tours. The tent is quite compact and seems stable. It has a sloping windbreak which can be opened/closed depending on the wind direction. Since the vestibule can be closed from both sides, but has no floor cover, you cannot unfortunately use it as additional storage space.
A highly recommended and versatile tent for the price (camping, festivals, hiking tours). Good quality and quite wind stable.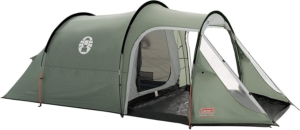 Size trekking tent erected: 4,4 m L x 1,9 M W x 1,5 m H
Sleeping cabin: 4,2 m²
Living area: 3.8 m² = 8 m²;
Pack size: 66 x 18 x 18 cm;
Weight: 7.2 kg; Incl. Carrying bag, guy ropes and tent pegs
Good size for 2 persons
Anteroom with floor tarpaulin with PVC window/light inserts, can be completely closed – you can store/put on shoes etc. well here.
Anteroom with PVC window/light inserts
Relatively large, comfortable tent entrance from all sides
Insect screen
Relatively wind/waterproof
Very good ventilation
Good headroom
Simple and relatively quick assembly
Evaluation: This tent offers enough space inside for 2 people (and luggage) and furthermore there are storage possibilities for shoes/equipment due to the closed and weather protected vestibule with groundsheet. For a longer camping trip with the car quite practical, for hiking tours the tent weight is relatively heavy and usually you do not need an anteroom. The vestibule makes the tent easy to use even in inclement weather (e.g. as a seating area for card games, eating/drinking, etc.). To be on the safe side, however, you should seal the zipper seams (these are often the weak point for moisture and on this tent there are several zippers) to avoid moisture seeping in here. In strong winds, the tent poles could also break, as they do not seem very stable. This unfortunately is a shortcoming for a tent at this price.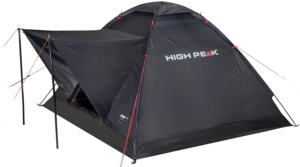 Tent size: Height: approx. 120 cm in the main tent,
Sleeping area: approx. 180 cm x 200 cm
Tent dimensions set up: approx. 180 cm x 200 cm
Weight: approx. 2.8 kg
Sufficient space for 2 persons + luggage, good headroom
Small canopy (with poles) as weather-protected entrance
Fast, simple assembly
Tent entrance big enough
Insect screen
Windproof, but only relatively waterproof
Ventilation not very good
Very simple and quick assembly
Review: This tent is quite suitable for short camping trips/festivals due to the light weight and easy setup. Unfortunately, the canopy does not bring very much protection in bad weather (rain/wind). As with most 3 person tents, the interior space is more adequate for 2 people and luggage. When occupied by 3 people (and luggage) space becomes very tight. Due to the fact that there is no inner tent here, one easily comes into contact with condensation on the tent wall when there is a lack of space. Even when it rains, it gets damp inside as soon as you make contact with the outer skin. Therefore, this tent is not optimal in bad weather conditions. For people who want to spend a night in the summer (in good weather) once in a while outside, quite okay, for longer hiking tours, where the weather can change quickly, it is rather unsuitable.